Email us to Join our Special Trek to Shrikhand Mahadev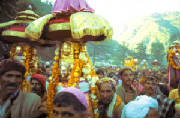 Places of Interest in Himachal Pradesh:
Chail: Highest cricket ground in the world, Hill station, Palace, Woods ideal for trekking and bird watching, Fishing
Chamba: Temples, Museum, Gateway to Tisa & Panagh valleys, Gardens, Murals and Paintings
Dalhousie: Hill station, Handicrafts, Picnic spot.
Dharmsala: "Queen of hills", Hill station, Tibetan handicrafts, Headquarters of Dalai Lama, tibetan monastery, Bhagsunag Temple
Jawala Mukhi: Temple, festival of Flame Goddess
Kangara: Fort Ancient town,, Miniature paintings, Temples
Khajiar
: Lake-side valley, Golf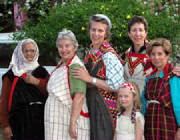 Kullu
: Orchards,
Temples
, Scenery, trekking, Trout fishing
Manali : Hill resort, Trekking, Temples, Himalayan Mountaineering Institute
Palampur: Hill station, Plantations
Shimla: Year-round Holiday center, Hill resort, Meadows & Forests, Handicrafts
Major Towns: Shimla, Manali, Kullu, Dalhousie, Dharmsala, Mandi.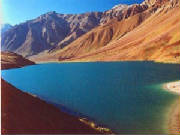 Lakes and Rivers : Beas, Sutlej, Ravi, Chenab, Yamuna, Pabbar, Giri, Parvati, Baspa
Lakes : Prashar, Khajjiar, Renuka, Gobindsagar, Dal, Pongdam, Pandoh, Manimahesh, Brighu, Chandratal.
Lake sports : Gobindsagar (Bilaspur) Pongdam (Kangra)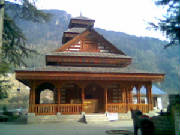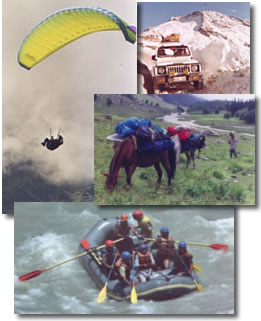 Important Trek routes: Rohru - Chanshal - Dodrakwar - Rupin - Sangla; Sangla Badrinath; Jalori pass; Chandrakhani - Pass (Kullu Manali - Chandratal Manali - Parvati valley Dharamsala - Triuns - Chamba Bharmour - Manimahesh Chamba - Kullar over Sach pass; Bharmour - Baijnath; Bharmour - Lahaul; Chandratal; Barashigri glacier; Kinner - Kailash Bhaba - Pin Valley.
Skiing and Ice Skating : (January to March) Solang Nalla (Manali) Narkanda and Rohtang Pass. Ice Skating Shimla, Heli-skiing Manali.
River Rafting : In Sutlej, Beas and Chenab rivers, Shamshi (Kullu), Tattapani, Rampur and Jispa. (Lahaul)
Para-gliding & Hang-gliding : Bir, Manali, Bilaspur and Rohru
Fishing : Rohru, Sangla, Sainj, Katrain, Barot for trout fishing
Wildlife Parks and Sanctuaries : Great Himalayan National Park Parvati Valley, Kullu. High altitude Pin valley National park, Spiti. Renuka Sanctuary, Pongdam Sanctuary, Sarahan Phasentry, Kufri and Gopalpur zoo.
Temples : Jwalamukhi, Chamunda, Brajeshwari, Chintpurni, Baijnath, Laxminarayan, Chaurasi, Chhatrari, Taranadevi, Rewalsar, Raghunath, Bijlimahadev, Dhungri, Bhimakali, Hatkoti Jakhoo, Sankatmochan, Kalibari, Nainadevi and Baba balak nath, Deothsidh.
Buddhist Monasteries : Dharamsala Tashizong, Rewalsar, Manali, Kardang, Sashur, Key, Dhankar, Tabo, Nako, Pooh, Kanam, Jangi, Murang, Ribba, Reckongpeo.
Fairs : Winter Carnival Manali, (Feb.) Mandi, Shivratri (March), Ladarcha fair, Spiti, (July) Minjar fair, Chamba, Manimahesh fair, Bharmour and Tribal Festival, Keylong (August) Phulech (festival of flowers), Kinnaur (Sept.) Kullu Dushera (October), Lavi fair, Rampur (Nov.), Renuka fair, (Nov.) Ice Skating Carnival, (Dec.)
Heritage Monuments : Kangra fort, Taragarh, Rampur, Nalagarh, Arki and Jubbal palaces, Bhimakali Temple, Naggar Castle, Kamru fort, Gondla fort (Lahaul Vice regal lodge, Christ Church, Chapslee, Wood villa palace, Chail Palace
Museums : State Museum, Shimla, Kangra art Gallery Dharamsala, Bhurisingh Museum Chamba, Roerich art gallery Naggar, Sobha Singh art gallery Andreta.