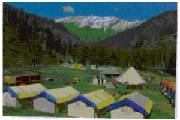 ACCOMMODATION FACILITIES
The permanent Base Camps have Swiss Cottages, water/insect proof tents.Deluxe cottage tent has 12' x12' room, 12' x 6' dressing room, 12' x 6' veranda including mosquito net and ground sheet.
The Hill Safari Tents have 10' x 10 x 8' x 5.5' area. Mess Tent has dining room sizing 15' x 15' x 9'. At some location toilet/bathroom tents are pitched separately. The permanent sites have the advantage of concrete toilets/bathrooms. Bedrolls and sleeping bags/quilts are provided in all units.

Trailblazers India creates summer adventures for students, with the primary focus of encouraging a lifetime of activity. At our camps the children can enjoy themselves to the fullest, learn new skills, experience new cultures, and become part of a close, cohesive team and build friendships that last a lifetime.
This programme is designed to help your child build confidence and self- reliance, be more at ease with others and open to new ideas. Away from the plains heat and pollution, in delightful surroundings of Solang,Barot,Tirthan and Chakrata Himalayan camps you can enjoy a gamut of activities.
CREATIVE ARTS AT OUR CAMPS
:
Basketry, Drawing, Jewelry, Leatherwork, Metalwork, Crafts, Painting, Cooking, Writing, Photography, Sculpture, Weaving, Stained Glass, Woodwork, Film/Video, Sewing, Journalism, Ceramics
PERFORMING ARTS AT OUR CAMPS:
Acting, Directing, Magic, Puppetry, Script Writing, Costuming, Lighting, Makeup, Set Construction, Broadcasting, Ballet, Rock Music, Jazz, Choreography, Folk Dance, Modern Dance, Instrumental, Voice, Circus Arts
A few of the Games and activities:
1. Huff & Puff 2. Spiders Web 3. Animal Instincts 4. Trust Fall 5. Animal Sounds 6.Acid River 7. Blind Folded Obstacle Race 8. Tug Of War 9. Bounty Hunt 10. Balloon Relays 11. Ordered Pegs 12. Sixteen point Compass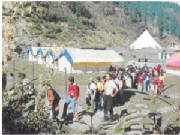 Why Trail Blazers
India
?
What makes us different from other travel & tour / adventure companies, is our carefully designed programs & offbeat destinations. We believe in the maxim 'Education through Recreation'. Our primary aim of enhancing the process of learning & appreciation of nature, enables our participant travelers to get maximum value addition at our camps & workshops. Through adventure activities, games, interactive learning sessions, outdoor training programs, spiritual & health programs you come back not only refreshed but enthused with a new spirit of love & respect for the natural wild surroundings.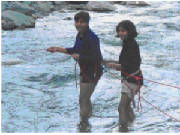 A FEW OF THE ADVENTURE ACTIVITIES AT "OUR CAMPS'':
Rappelling: Great Sport where we help you descends 50 feet off a rock cliff while tying you to a safety rope.
Overhead Crawl: Simple thrill where you can view the world upside down while sliding on a rope.
Tent Pitching: Learn to pitch tents in the wilderness.
Net Climb: Test your fitness while climbing this obstacle.
Rock Climbing: Experience why rock climbing is called 'The King of Sports'. Easy routes for beginners.
Mountain Biking: Rent a Bike and go explore the hills
Trekking/ Cross Country Walking: There are plenty of walks down the wild side
Night Trail: Ever heard the sounds of the jungle in the night?
Village Study: You can go up close to the native of living and working.
River Crossing: Tie a rope and wade through a fast flowing river.
Safety is our primary concern. The instructors for all the activities are well trained